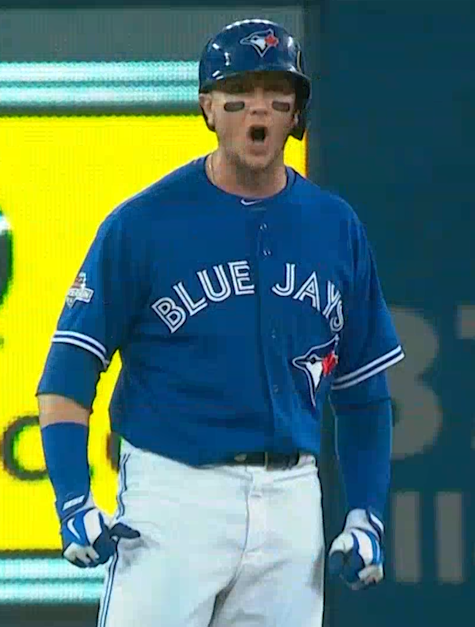 While the New York Mets were able to secure their spot in the World Series last night, the Kansas City Royals were unable to secure their spot after losing to the Toronto Blue Jays 7-1 in Game 5 of the American League Championship Series.
Blue Jays pitcher Marco Estrada was on his A-game, pitching seven scoreless innings, striking out five and giving up just three hits. One of the hits Estrada gave up though was a homer to Salvador Perez. When he left the game in the eighth inning, the crowd rightfully gave him a standing ovation.
"This time around I had better fastball command," said Estrada. "The first game, I couldn't locate that down and away pitch; today I threw a lot of good ones."
The pitching for the Royals was less than stellar though with Edinson Volquez taking the mound. In each of his post season games before this one, Volquez has walked four batters, and this streak will not be broken after this game. But this problem caused an implosion in the sixth as he loaded the bases on two walks and a hit batter.   Volquez then he walked yet another batter bringing in Ben Revere to score.
After this happened, Royals manager Ned Yost took Volquez out of the game bringing in Kelvin Herrera. Herrera would not be able to stop the damage as he gave up a three-run double to Troy Tulowitzki.
"(It's) not a cookie cutter game," said Yost. "You just don't know what you're gonna get until you get out there."
Batting continued to click for the Blue Jays later in the game as Jose Bautista hit a double in the seventh bringing home Donaldson, and Kevin Pillar doubled in the eighth scoring Tulowitzki.
Now he Blue Jays hope they can do to the Royals what the Royals did to them back in 1985; win the last two games after being down three games to one to advance to the World Series.
Game 6 is set for Friday at 8 o'clock in Kansas City with the pitching match-up set to be David Price of the Blue Jays facing Yordano Ventura of the Royals.