Alex Cora is officially the Boston Red Sox's new manager. Assuming the position in early November, Cora says he is excited for the opportunity to manage such a great team.
How Cora Landed the Job:
Cora first interviewed for the open managerial position at the Boston Red Sox during the 2017 ALCS . Shortly after, the Red Sox announced a three-year managerial contract for Cora. A contract that will start in 2018 and go through 2020 seasons, with an option for 2021.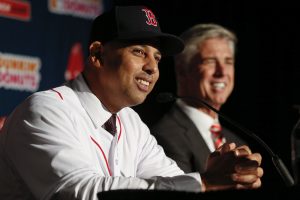 Before Managing:
Born in Portico born October 18, 1975,  got his first opportunity in 1993 playing for the Minnesota Twins. Cora decided to turn down the offer to play collegiate baseball at the University of Miami instead. While there, he was named to the College World Series all-tournament team in both 1995 and 1996. Leading the Hurricanes to the title game in 1996, unfortunately loosing to Louisiana State University.
After college, he played major league baseball for many years including the Los Angeles Dodgers, Cleveland Indians, Boston Red Sox, New York Mets, Texas Rangers, and Washington Nationals.
Cora has been a color analyst for baseball on ESPN, ESPN Deportes as well as coaching the Houston Astros.
Despite his stacked resume Alex says he never thought he'd make MLB manager so soon.
"This is a good baseball team." pic.twitter.com/T0kbTrymk5

— Red Sox (@RedSox) November 7, 2017