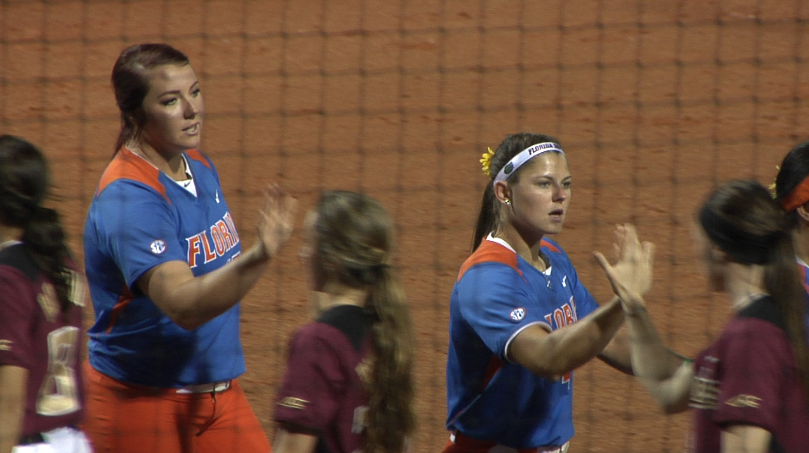 Lauren Haeger and Jessica Damico high-five the Seminoles after the game
The top ranked Florida Gator softball team shut out the 10th ranked Florida State Seminoles in the second game of the Share a Little Sunshine Showdown. The 5-0 win Wednesday in Gainesville clinches the season series for the Gators and finalizes their nonconference record at 31-0. Gator coach Tim Walton didn't expect his team to be perfect in the non-SEC schedule.
"With how we stacked it up this year, and really knowing how many good opponents we are playing…it's a pretty challenging schedule on the road, at home and at different places. Just give our kids credit for being able to match up every single day."
The Gators were led by none other than ace Lauren Haeger. The senior logged in five innings of work in the circle, only allowing four base runners and striking out four. She was even able to get her first hit in her career against Florida State pitcher Lacey Waldrop, who is the reigning national player of the year. Haeger will take what she can get from Waldrop.
"It wasn't the best hit, but I will take anything I can. Like I said, she is really good and I'm excited that I can produce for my team when in the past I haven't been able to in games like this."
It was the freshman Nicole DeWitt that had the most success against Waldrop. The left fielder got on base every at-bat, getting two singles and scoring two runs for the Gators. Dewitt simply thought her plate vision was on point.
"She is a pretty good pitcher. She has good speed, she mixes in pitches pretty well. But I was just seeing the ball really well tonight and that just helped me to my advantage."
The Florida Gators are now 44-4 on the season. Florida State falls to 37-12. This is the fifth time in the last six years that these teams met at least twice that the Gators have won the season series.
The Gators have another tough SEC series this weekend against the 25th ranked Texas A&M Aggies. Being the final home series in the regular season, the six seniors on roster are going to be celebrated.
For full audio clips of quotes above and more, click below:
Walton didn't expect to be perfect against nonconference opponents
Haeger will take any hit she can against Waldrop
DeWitt saw the ball well when facing Waldrop
Walton on changing the offensive approach against Waldrop