The Chicago Cubs take on the New York Mets in Game 3 of the National League Championship Series in Wrigley Field tonight with the Cubs down 2-0 in the series.  The Cubs were the best team in baseball for the past month and stayed hot in the postseason, but the Cubs bats have seemed to cool off as the Met pitchers have held the Cub bats in check for the most part.
On Sunday, the Mets won 4-1 behind starting pitcher Noah Syndergaard, made the Cubs look silly with all fastballs and strikes. For Game 3, Jacob DeGrom starts on the mound for New York against Kyle Hendricks for the Cubs.  Hendricks pitched Game 2 of the NLDS victory over the St. Louis Cardinals.
Chicago is now the underdog of the series, but fans can't give up yet. If the Chicago Cubs end their 107-year old drought this season, "Back to the Future II" might be to blame. As the predicted team to win the 2015 World Series in the classic 1985 sci-fi film, the Cubs are definitely the fan favorite for Chicago fans and movie lovers alike. If the Cubs win it will go down as the greatest pop culture prediction to ever come true.
Chicago pitcher Jake Arrieta agrees.
"I know in 'Back to the Future' we win it all in 2015, which is kind of crazy, to say the least.We'll do our best to make sure that happens," he said.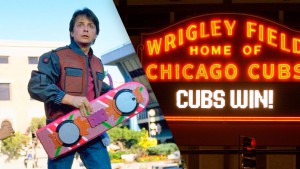 (Courtesy of espn.go.com)
Game 4 will also be held in Chicago tomorrow.