It's been a disappointing week for Florida's NFL teams. The Bucs were defeated by the Giants, the Dolphins lost to the Bills, and the Jags fell to the Jets.
In Tampa, The New York Giants beat the Bucs, winning 32-18. New York's Jason Pierre Paul kept defense on point, making his season debut after a fireworks incident in the offseason kept him out of action; he had two tackles and two quarterback hits. The Giants held Tampa's starting quarterback Jameis Winston out of the end zone until Winston ran 10 yards for a touchdown that brought the score to 20-18 with 9:25 remaining in the game; a two point conversion pass failed.
The rookie says he needs to do a better job in the red zone.
Meanwhile, quarterback Eli Manning threw for 213 yards and two touchdowns for the Giants, and a Josh Brown field goals sealed the victory. The Bucs are now 3-5 and the Giants are 5-4.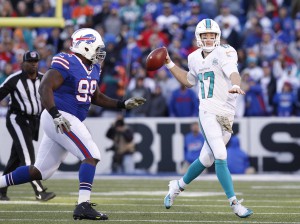 The Buffalo Bills and the Miami Dolphins were at a crucial point, both 3-4 in the season, and it was the Bills that hit the .500 mark with a win.  It was Miami's  second straight loss since winning the first two games after interim head coach Dan Campbell took over. Wide receiver Sammy Watkins had a touchdown for the Bills and had 168 receiving yards, the best of his career. The Bills were up 26-14 in the third quarter when Watkins scored on a 44-yard touchdown pass from Tyrod Taylor.
Running back LeSean McCoy also scored a touchdown for the Bills before injuring his right shoulder in the fourth quarter. For Miami, quarterback Ryan Tannehill finished 27 of 36 for 309 yards with two lost fumbles. Miami Interim Coach Dan Campbell said the Dolphins could have come back after falling early. However, the game ended with the bills winning 33-17.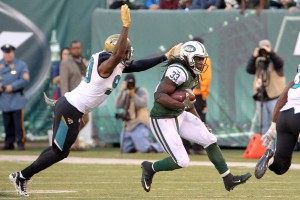 In New Jersey, The New York Jets earned a 28-23 victory over the Jacksonville Jaguars. Jets quarterback Ryan Fitzpatrick wasn't stopped by a torn thumb ligament as he threw two touchdown passes. Quarterback Blake Bortles led the Jags offense, throwing for 381 yards and two touchdowns. Bortles 20-yard pass to Bryan Walters kept Jacksonville alive with 2:26 left in the game; however, New York's Marcus Williams made his second interception of the game, sealing the victory for the Jets.
Bortles is bothered by the plays he missed.
The Jaguars next play at Baltimore.