The Alabama Crimson Tide (7-1) and the LSU Tigers (7-0) are two football programs that are certainly no strangers to playing prime-time games with national-ranking ramifications. When the two teams square off this Saturday, it will be the fifth time that both sides will be ranked top five in the country when they meet.
For LSU coach Les Miles, the number 2 ranking his team has now is a testament to how well his team has played thus far. However, he also admitted that there are still a lot of games to play, including this Saturday's game against Nick Saban's side.
This particular match up not only features two of the best teams in the nation so far this season, but also two of the best running backs in the country.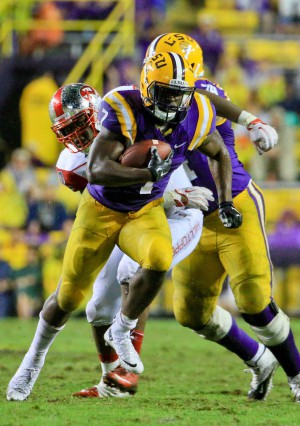 Leonard Fournette, LSU's sophomore running back, is averaging an outstanding 7.7 yards a carry to go along with his 1,352 yards rushing this season. The Heisman candidate has also ran for 15 touchdowns, making him the focal point of the Tiger offense. Miles believes that Fournette simply is bigger, faster, and stronger this year which has made him one of the biggest offensive threats in college football.
Alabama's junior running back, Derrick Henry, is a premier running back in his own right. He has been a workhorse for coach Nick Saban and the Crimson Tide this season, carrying the offense his last time out against Tennessee. Henry carried the ball 28 times for 143 yards and two touchdowns in the 19-14 win.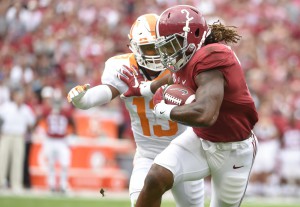 Although much of the attention will be on the running backs, the quarterback play in the game could very well decide the winner. While Alabama's Jake Coker has thrown seven interceptions so far this season, LSU quarterback Brandon Harris has thrown none. Which one can keep the mistakes to a minimum on Saturday will give his team a huge advantage.
Nick Saban has been very impressed with Harris, and thinks the sophomore quarterback has shown great maturity.
Both teams are coming off a BYE week heading into the game, and sit at first and second atop the SEC West Standings. The winner of Saturday's game will take a huge step in controlling the division, and be one step closer to both the SEC championship game and the top four of the College Football playoff rankings.
Kickoff on Saturday is set for 8 PM from Bryant-Denny Stadium in Tuscaloosa, Alabama.